FABtotum Personal Fabricator:
all in one open source 3D printer, CNC machine and laser engraver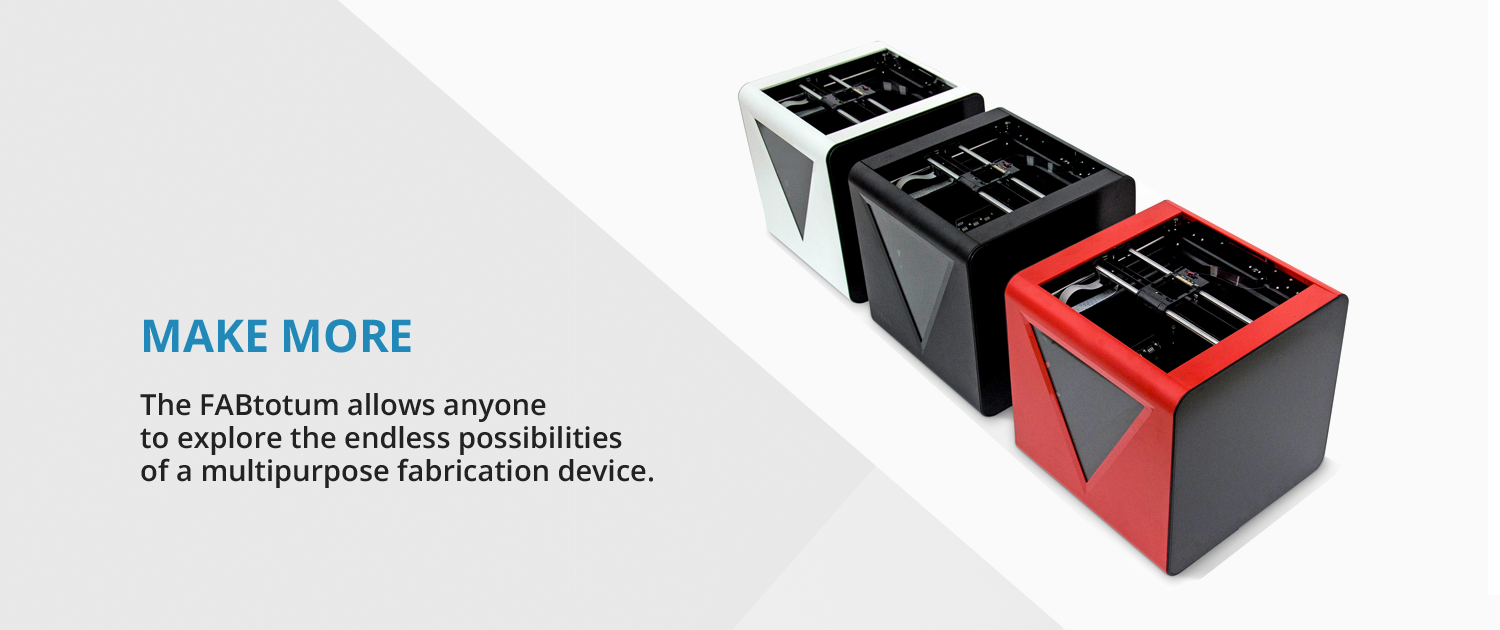 Multipurpose Desktop Personal Fabrication
The FABtotum 3D Printer is not just a 3D Printer but a multipurpose tool, a modular 3D Printing, CNC Milling and laser platform. For this reason we don't like to call it 3D Printer but Desktop Personal Fabricator.
FABtotum Personal Fabricator is therefore the first self-handling device, 100% Made in Italy, elegant designed, thought for all level of professional uses.
How did we do that?
FABtotum Personal Fabricator consists of a main strcuture (FABtotum PRO) that can be bought and use with one or more modules (Head).
Today are available 5 Heads: 2 Heads for additive manufacturing  (Printing Head e Printing Head PRO), 1 for subtractive manufacturing (Milling Head) and 2 for laser engraving and cutting (Laser Head e Laser Head PRO), and other heads are coming…
Designed for every workspace
FABtotum Personal Fabricator concentrates all his components into a small 36,6cm cube (filament spool included).That means it does not use all your precious desk space!
Furthermore, the FABtotum 3D Printer, unlike some 3D Printers, is a pleasant design element, able to fit perfectly in your office, studio, lab or home. Choose your favourite color: black, white or red?
If you want to experiment…
The FABtotum modular system allows all users to develop, test and sell freely their heads!
If this idea intrigues you, you can require the Head Development Kit and make whatever you like: a more powerful motor, a small laser diode module for paper cutting, a pick and place clamp or a syringe for scientific applications (or to make pastry!)
Bring out the best of your FABtotum! It's up to you!