Head Developmente Kit:
the perfect companion for your FABtotum Personal Fabricator
The Head Development Kit has been developed to help DIY enthusiasts, makers and educators to tinker with the FABtotum without the need of complex electronics knowledge.
---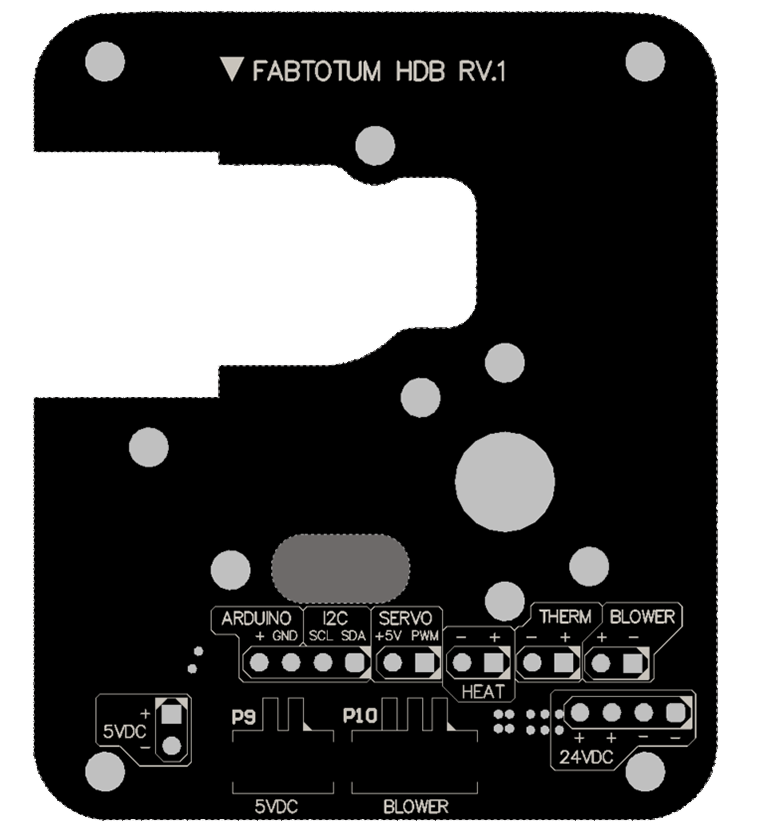 1
Auxiliary 5V Power supply
2
Arduino Power Supply (5V 500mA)
9
24V 6A (144W) Primary Supply
Make the most out of yuor Personal Fabricator: build your own parts
This board will allow to develop new functionalities or application building and add them to the already wide range of functions of the FABtotum Personal Fabricator.
Since the start of FABTOTUM's history back in 2013, when the first model appeared on Indiegogo, FABtotum's owners have been playing and tooling to turn their device into what they needed it to be. The aim of the Head Development Kit is to boost this trend and see more results to pop out.
With the HDB you can control actuators, sensors and even other Integrated Circuits via Digital, Analog and Serial link.
You can even configure the pins to suit your needs.
Being an Open Source Project means to share with everyone the knowledge and work as a community in order to improve all together. FABtotum has taken this as one of its policies: every user can download all the files that the Team has developed to create a final product.
The Head Development Kit is the concept that once again gives an helping hand to those who are willing to try new ideas that normally would require complex knowledge of manufacturing and electronics.